Hyundai Cars To Be Available On Subscription with Revv
Posted on: March 12, 2019, by : Subojit Aich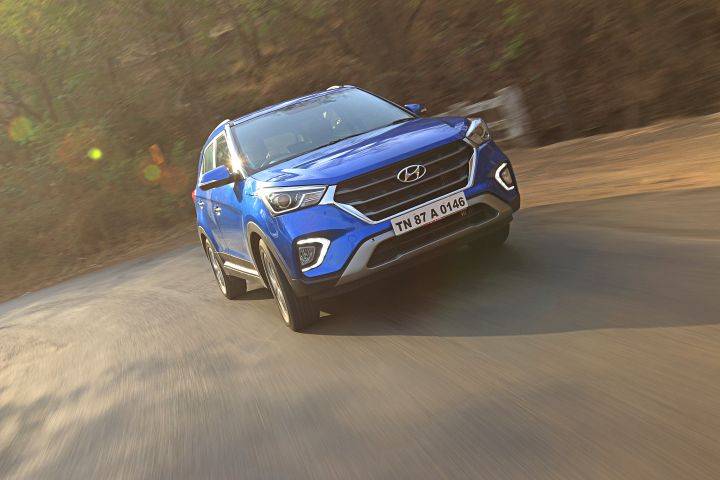 To be available in six cities initially from Q1 2019.
To offer long term and short term subscriptions with swap facility. 
Facilities include on-demand delivery, zero down payment.
To also offer no insurance/maintenance cost for short term subscription.
Hyundai cars will now be available on subscription across six cities in India, under the Korean carmaker's new partnership with shared mobility company Revv. Under this new model, customers can subscribe to Hyundai cars in cities like Delhi NCR, Mumbai, Kolkata, Pune, Bangalore and Hyderabad.
The subscription-based model not only gives customers an opportunity to experience Hyundai's models with hassle-free ownership, flexibility and limited commitment, it also allows them facilities to swap and choose between long term and short term plans.
Commencing the pilot run in the first quarter of 2019, the carmaker assures subscribers other facilities such as zero down payment, on-demand delivery and no insurance and maintenance costs for short term subscription plans. Hyundai also assures that customers opting for subscriptions of over a year will get a brand new vehicle.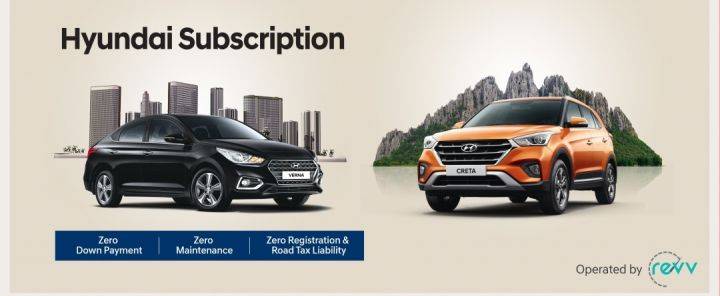 The carmaker already has a fledgling subscription-based ownership model in various countries. Now with traditional mobility being disrupted by ride-sharing companies here as well, it seems like the right time for the carmaker to have such a model available in India. The carmaker offers 10 models in India and prices start at Rs 3.35 lakh for the cheapest car Eon and go up to Rs 26.95 lakh (both ex-showroom, Delhi) for the top model Tucson.
Apart from Hyundai, other manufacturers such as Mahindra, Toyota and Skoda have also announced their own plans for a subscription-based ownership model in the country.
You can read more about Hyundai's new plan in the release attached below.
New Delhi, March 8, 2019 – Hyundai Motor India Ltd (HMIL), the country's second largest car manufacturer and the largest exporter since inception today announced the launch of 'Hyundai Subscription'. This Industry First exclusive strategic partnership of Hyundai with Revv will provide an opportunity to the customers to experience Hyundai product portfolio, with hassle free ownership, flexibility and limited commitment through Subscription Based Ownership Model.
The pilot project to kick-start in Q1 2019 will be available across six cities namely Delhi NCR , Mumbai, Kolkata, Pune, Bangalore and Hyderabad.
Hyundai Subscription provides the customers to opt for flexible ownership plan that includes subscription for short term / long term, swap across Hyundai range and can easily avail it under zero down payment, No insurance / maintenance for short subscription, including an assured-on demand delivery. Customers opting for one-year subscription or more will get an assured new car.
Commenting on the announcement Mr. SJ Ha, Senior Director, Sales & Marketing, Hyundai Motor India Ltd, "We are extremely excited about the Indian mobility landscape currently and foresee great prospects. This strategic alliance will provide a unique opportunity for today's millennial customers to experience Hyundai's diverse product offerings that blend with their personality. With our deep understanding of Indian consumers and progressive tech-driven mobility solutions, we aim to forge a new market for the New Age Indians."
Commenting on this launch, the Revv Founders commented "We are very excited about launching India's first exclusive car subscription program, along with Hyundai. This is an innovative offering, which will change the way people access mobility in the future. This also helps to deepen our relationship with our strategic partners – Hyundai. As one of India's leading car sharing companies, we will continue to innovate, and create newer offerings for our customers."
The shared mobility space is evolving at an exponential rate, from USD 900 million in 2016 to USD 1.5 billion in 2018, it is projected to expand to USD 2 billion by 2020. India's 15,000 car sharing vehicles are expected to grow to 50,000 by 2020, and 150,000 by 2022. Currently, millennials, who are substantial users of car sharing services, comprise 35 percent of the total population of India.
Hyundai has been enhancing its mobility services in major locations worldwide and is committed to offering smarter value to customers to cope with the rapidly-shifting paradigm in the automotive industry.